Features of B+insole
This is an insole for regulating your feet.
Common foot trouble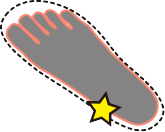 It always hits Kurubushi

The spring of the foot seems to be weak.
The athletic ability is also easier to decrease.

Around the thumb ball
pain

First of all
Don't get worse
I have to do it ...

My legs are tired

There is a possibility of high school.
Is your soles hard?

I hate hard shoes

That said
Too big shoes
Have you chosen?
Because my feet are distorted

Is it like this?

When using the insole ...

GOOD balance!
The shape of the foot always changes. In addition, the legs are left and right differences and large or small distortion.
By using a ready -made ready -made insole with a symmetrical form ...
Control the movement of the foot
It is possible to regulate the difference between the left and right feet
I think it will be possible.
"Zero Drop" insole.
The flat part from the thumb ball and the heel
Because the thickness of the flat part is the same,
The height difference of the insole is "zero".